In case you are prepared for 4K gaming, the 2 significant mainstream consoles are definitely all set for you! According to many individuals, it would not have been possible for the consoles to attain the innovative 4K-rendering ability until the subsequent generation; however, Microsoft and Sony have moved early in order to live up to this standard as early as possible.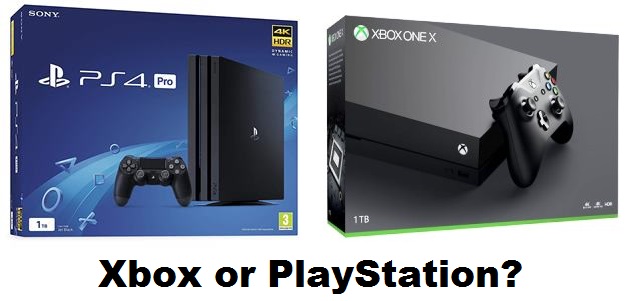 Below, we are going to compare the Xbox One X and the PlayStation 4 Pro and will look at the pros and cons of both while deciding the eventual winner too.
So, let us not waste time and delve deeper into this article.
The hardware
CPU:
The CPU of both of these consoles have been somewhat improved, unlike the original versions. Even though the CPUs of both consoles feature 8 cores, that of the Xbox One X enjoys some sort of advantage over the PS4 pro. This is because the CPU of the Xbox One X runs at a speed of 2.3 GHz while that of its counterpart runs at only 2.1 GHz. Although it is not a great deal of difference, we ought to take this aspect into consideration while comparing.
GPU:
This is the place where we can observe the biggest improvement. Both these consoles depict a huge improvement in the graphics segment with the Xbox One X featuring a 6 TFLOP GPU and its counterpart having a 4.2 TFLOP one. Moreover, the PlayStation4 Pro comes with a RAM of 8 GB with an additional 1 GB preserved for background procedures and the Xbox One X has 12 GB RAM in total. Both these consoles make use of GDDR5 memory.
Other specs:
Besides the CPU, GPU, and RAM, we have also mentioned some other specs below.
Both these consoles feature an internal storage of 1 TB. The PS4 comes with a regular Blu-Ray player and the Xbox One X features a 4k one.
Performance
PS4 had some controversies surrounding it initially since it fails to run games in the native 4K. Instead, it simply renders games in an almost-4K resolution following which it makes use of sophisticated upscaling methods such that they seem to be in 4K.
On the contrary, the Xbox One X intends to offer a genuine native 4k experience to the gamers out there. Moreover, this is made possible by its more powerful GPU although there is not much difference in the image quality.
Cost
The price of these 2 consoles differ somewhat and that of the PS4 happen to be the more inexpensive of the 2. The 4K-capable console of Sony was launched on the market with a price tag of $400, while the cost of the Xbox One X is a bit higher at $500.
The Games
To be candid, one does not need to be concerned about the performance and the hardware while picking a gaming console. As compared to a gaming computer, these consoles ought to be more inexpensive, simpler, and a lot more convenient with only one intention – playing some mind-boggling games.
So, what can be said of both these consoles when it comes to games?
The selection
As compared to the Xbox, the PS console has always has better and more exclusives in the past, and this applies to the present versions too. It is also a significant reason why the demand of PS4 is somewhat higher than that of the Xbox One X.
On top of this, you also need to take into account another essential aspect – the VR. There is VR support for the PS4 Pro just like any other version of PS4 out there. Also, the PSVR happens to be amongst the better valued VR headsets presently on the market. On the contrary, there is no VR support when it comes to Xbox One X.
Backward compatibility
Microsoft enjoys one significant advantage over Sony given that just like any other Xbox One version, this Xbox One X is 100% backward compatible with the Xbox games of the previous generations. This will enable users to play any game which is released for the Xbox 360 or the original Xbox that is owned by them on the Xbox One.
On the contrary, backward compatibility is supported by Sony by means of PlayStation Now which happens to be a game streaming service that is subscription-based. It does not matter whether you are already an owner of an older PlayStation game, it will be imperative for you to pay out an annual charge of $100 so as to gain access to PlayStation Now. It is definitely quite expensive out there. Apart from this it also:
• Needs stable Internet connectivity of a minimum of 5 Mbits
• Totally disrespects the fact that you might have already purchased the games available by paying the full price
• Only enables the users to gain access to a selection of video games and not every single game that was released for the earlier PlayStation versions
Online play
While we are already talking about the subscription-based services of Sony, you will also come across the PS+ subscription which is needed if you like to play games on the web and this will cost to $60 every year. However, that is not all and several free games are also entailed by the PS+ subscription each month: a couple of PS4 titles, 2 PSVita titles plus 2 PS3 titles (even though the PS3 and the PSVita titles will be an allegedly removed from this offer sometime the subsequent year). All the games will be kept by the users that they receive by means of PS+ and they will be able to play them for as long as the subscription remains active. Besides these, deeper discounts will be enjoyed by the subscribers in the PS Store.
In the meantime, the Xbox console comes with Xbox Live Gold which happens to be a similar type of subscription-based service which also allows multiplayer, provides subscribers with deeper discounts on the Microsoft store just like PS+, and provides as many as 6 Xbox 360 and Xbox One games every single month (you can also play them while your subscription remains active). It has also become more inexpensive in the recent past given that the animal subscription cost has been blurred by Microsoft from $60 to only $40. Apart from this, the Xbox One consoles happen to be backward compatible with almost every Xbox 360 game out there, and therefore you will be able to play them even though you do not own any active last-gen console.
Next, we will talk about the pros and cons of these 2 gaming consoles that we are discussing here.
Xbox One X Pros:
• More powerful
• The Xbox Live services happen to be quicker and more dependable as compared to the PlayStation Network
• The Xbox Game Pass is more inexpensive as compared to PlayStation at present
• More compact in size
• Backward compatibility using discs
Xbox One X Cons:
• More costly
• A lesser number of exclusive games
The PlayStation4 Pro definitely has a better reputation and features more exclusives although it is not as powerful as its counterpart. In spite of that, the PS4 is nevertheless able to render games at a resolution of 4K as well as 60 FPS, albeit less often.
PS4 Pros:
• A higher number of exclusives
• More inexpensive
• Better reputation
• Can support VR using its personal dedicated headset (although you need to purchase it separately)
PS4 Cons:
• Bigger in size
• Not as powerful like its counterpart
• Backward compatibility is not supported while using discs
Conclusion:
Now, after going through this comprehensive discussion on "which is better Xbox or PlayStation?" we like to assert that the winner in this case happens to be PlayStation 4 Pro.
Why is it so?
There is no doubt that better value is presented by PS4. Although it does not run any game in native 4K, the difference is almost indistinguishable. In fact, the solution of Sony is quite intelligent since it helps to bring games at a much lower cost to a 4K screen.
It has got better exclusives. As already mentioned by us, the popularity of PS4 depends significantly on the exclusive games offered by it. You'll be having access to some mind-boggling games with the PlayStation 4 including the likes of the Uncharted series, Bloodborne, Horizon Zero Dawn, The Last of Us, and so on, many of which are going to be launched in the near future.
It also features VR. Although it will be imperative for you to purchase the PSVR headset separately, VR is simply a fantastic aspect in the world of contemporary gaming.
No one can deny that Xbox One X comes with better hardware and somewhat better graphics, but as mentioned above, it is not worth its cost. The only reasons why you might like to go for the Xbox One X is because of the following:
• If you happen to be a long-term follower of Xbox with an assortment of outdated games that you'd like to enjoy
• You truly like to have a 4K Blu-ray player in your gaming console
Reference Sources:
https://www.gamingscan.com/playstation-4-pro-vs-xbox-one-x/
https://www.androidcentral.com/xbox-one-x-vs-playstation-4-pro-which-should-you-buy