Dating back twenty-six years to gaming's prehistory, Brøderbund's Lode Runner is the latest retro game to get the 2.5D remake treatment. While it's hardly the most famous name in the video game canon, Douglas E. Smith's hectic platformer was a bit of a trailblazer, and one of the first games to include a level editor, decades before LittleBigPlanet and City of Heroes ushered in an era of user generated content.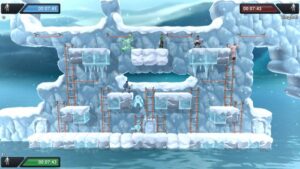 Developed by Tozai Games (the team behind another XBLA remake, R-Type Dimensions), Lode Runner has been bought into the 21st century with HD graphics, 272 stages, a wealth of new modes and a rebooted level editor. Although Lode Runner resembles a platform-based Pac Man at first glance, it's actually a puzzle game in disguise; increasingly intricate screens of platforms, ladders and zip wires must be negotiated to collect gold nuggets – and while early stages can be completed with relative ease, later ones pose a considerable challenge.
Your progress is hampered by some particularly tenacious guards which behave in much the same way as Pac Man's ghosts, shadowing your movements and attempting to trap you in a corner. Fortunately, your character is equipped with a blaster that can temporarily disintegrate the blocks that make up each screen; with practise, it's possible to trap the half-witted guards in the holes left behind. There's an endearingly old-school catch, though: only blocks on either side of your character can be destroyed, which makes the task of mining through multiple layers considerably more difficult – some serious tactical thinking is required when attempting to retrieve gold nuggets buried beneath several blocks, and it's not uncommon to find yourself stuck in one of your own holes without a jump button to aid your escape.
Later levels crank up the difficulty level even further by introducing new block types and some increasingly malevolent guards such as Mad Monks, Robots and Yetis – Lode Runner is one tricky game.
Lode Runner's single player Journey campaign is joined by a wealth of other modes to stop you getting bored – there's a time attack mode, a 48 stage cooperative campaign, a four player death match mode called Last Man and puzzle modes for one or two players.
It's hard to play Lode Runner without comparing it to GRIN's excellent Bionic Commando remake – and Lode Runner can't match up to the production values and sheer quality of that title. It's also evident that the game is based on a seriously ancient IP; despite the high definition spit and polish, Lode Runner's roots in the earliest days of video gaming are constantly apparent, with its static screens block-based environments.
Accepted for what it is however, Lode Runner remains eminently playable – personally, I enjoyed the puzzle mode more than the main game (maybe I'm getting old, but I found these stages, free from the hectoring presence of guards, far more rewarding), and you really can't complain about lack of content – there are hundreds of stages here, and the level editor means that fans can design and share new courses with the Live community.
It's difficult, however, to imagine Lode Runner appealing to an audience outside the retro gaming crowd – it lacks the gleeful destruction and broader appeal of Bionic Commando, and many will be put off by its hefty 1200 game point price tag – that's 400 more than BC and another excellent retro remake, Space Invaders Extreme. Even taking into account Lode Runner's expanse of modes and levels, it's a surprisingly high price.
But longstanding fans will no doubt lap up what Tozai have achieved with this ageing gem from gaming's early days – they've managed to revitalise and expand Lode Runner while still retaining its traditional gameplay. For retro game addicts, Lode Runner will be worth its weight in gold.