WrestleMania, the Granddaddy of 'em all. The Showcase of the Immortals. The Crown Jewel in sports entertainment. There have been many outlandish and fantastical terms attached to the WWE's annual grapplefest and it would take a peculiar man to claim he'd never seen or heard of the extravagant event. For wrestling fans it's the pinnacle of the year's calendar and as Vince McMahon's baby celebrates its 25th Anniversary, the arrival of THQ's nostalgia trip through the golden era is perfectly timed.
Based on WrestleMania I through XV, Legends of WrestleMania perfectly encapsulates the over-the-top action and cartoon nature of a time when cheering sweaty men in a 'squared circle' still had some fun to it. And as a long time WWF and WWE fan myself, the idea of rekindling childhood memories with a list of the businesses best is an exciting one; it's that adolescent fever that arguably makes LoWM the best wrestling game this generation has seen so far.
Drawing inspiration from what many believe to be the genre's pinnacle, the N64's No Mercy, as well as cabinet classics from the early 90s, LoWM is an arcade game by heart. Gone are the complicated move sets and controls seen in the increasingly poor SmackDown vs. Raw series, replaced by a streamlined, user-friendly system that relies entirely on the face buttons and quick-time events. At first it feels strange; it's slow and repetitive and appears to be lacking any depth, seeming more like an interactive playback than the do-as-you-please environment we expect. There's no run button, for instance. Sure, you can flick your analogue stick towards the rope in-ring, but move to the outside and you're strapping on lead boots. Irish whipping opponents can be just as awkward and corner grapples are few and far between. It just feels so… weird.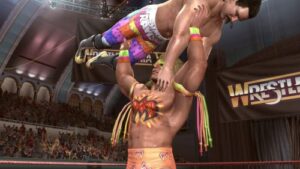 But stick with it and you'll soon see the new system click into place with an epic sense of satisfaction, as the pace and atmosphere of matches begins to mirror their real life counterparts. Old school wrestling, especially in the 1980s, was far slower and basic than what the 'powered up' athletes of today provide with the limitation in moves in LoWM seemingly feasible – even somewhat realistic -with plenty of scoop slams, backbreakers, big splashes and leg drops padding out the majority of matches.
There's no stamina bar or little voodoo men littering the screen either, just a momentum bar and a health bar split into three stages, with each providing stronger grapples and attacks that lead to your finisher. It's simple, clean and works just as it should.
To compensate for the lack of moves, Yuke's has integrated those much-debated QTEs into LoWM, which come into play during reversal mini-games and special match points. Thankfully, they're well implemented and activated at specific times, with a few button presses resulting in a spectacular on-screen showdown. Hogan's unforgettable slam on Andre is included along with The Hitman's brutal chair stomp on Austin; reliving these memorable milestones is sure to bring out the kid in every wrestling fan. There's also vintage footage showing the build-up to the match and the story behind the rivalries – something sure to delight those with fond memories.
Although far from groundbreaking, graphically LoWM is fairly polished. Character models – of which there are 42 different superstars to choose from – are exaggerated and vibrant, which fits well with the game's almost cartoonish nature. The option to import current grapplers from SmackDown vs. Raw 2009 into the game also means that you can finally square off John Cena and Junkyard Dog to see who the real leader of the Gang is.
For the most part, the arenas themselves are also excellent. Ring aprons, stages, flooring, ropes and sections of the crowd alternate with each WrestleMania, and my personal favourite, the Caesar's Palace-based IX, proves to be fantastically atmospheric. Curiously, a Royal Rumble arena is also available for the Battle Royal and Rumble match types, which presents the mouth-watering idea of a future WWE Legends game being based on the complete calendar.
The Rumble matches are possibly the best incarnation of the fights seen in digital form, with wrestlers trying to force opponents over the top rope leg first. In a great touch, you're limited to striking moves or a basic headlock until you reach the third level of the momentum bar, which results in a huge sense of satisfaction when you're finally rewarded with the option to pull off a finisher.
Another highlight is the improved Hell in a Cell, as the increased space and breakable cages bring home the brutality better than any previous attempt. A lot has also been made of the managers and their ringside assistance; the likenesses of Paul Bearer and Mr Fuji captured perfectly by Yuke's. There are, however, few presentation irks. Shawn Michaels' ridiculously OTT Mania XII entrance is ominously missing and play-by-play commentary is mostly tired copy that you've heard before. It can also be frustrating when the AI insists on attempting to win the match in the simplest fashion, rather than recreating classic fights that the title lends itself too. There are other small inaccuracies too, but only those that a true fan boy of the subject matter will notice.
While LoWM may not be perfect and the new system takes some getting used to, the game eventually rewards those willing to show a little faith. Its ethos is primarily on fun and childhood embraces are kept firmly in mind, providing a great little reminder as to why we love games so much. If you're a fan of the WWE, or even better the original WWF, then you won't be disappointed. Altogether now, "When it comes crashing down and it hurts inside…"